31 days…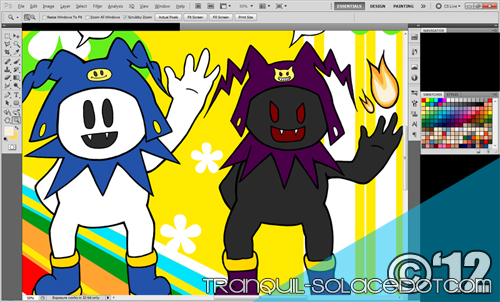 First of all, here's to a happy, albeit late, 2012 greeting. I hope everyone who reads and glances through this blog, their 2012 has been a productive and interesting one so far. For me, it's been pretty good, nothing much to complain about, health is going well(and it better continue that way!). In terms of artistic plans for 2012, I have one big plan, and I might as well come clean about it. If you look through all the entries for the past two and a half to three years, you might have noticed many works in progress and livestream videos(usually fanart), but never any mention of the finished results. There is a specific reason for that. And that reason is…I want to get all these fanart pictures printed and sold at conventions around town. I hope I'm not jinxing myself but I have my sights set on the artist allies of three conventions this year(which I'll post more about here and on the front page of my site), Anime North, Ochiba-con and Dot-con. As a result of preparing for these events, pretty much all my drawing time has been devoted to finishing up the fanart, and getting it ready to be printed hopefully sometime next month. Here's a video of me colouring that on of my convention works in progress. So there, I've come clean! For those of you following me on facebook, there's the explanation of convention related questions and polls. Also, with that in mind, what sort of conventions do you hope to attend this year?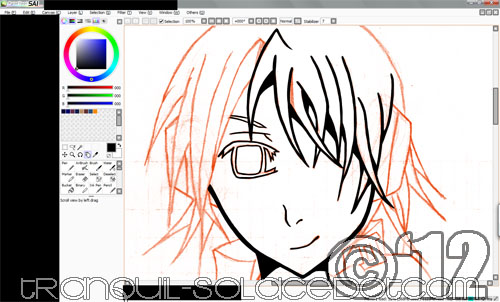 And this would be my last fanart print, because no print set is complete without a little Yousuke Hanamura…none!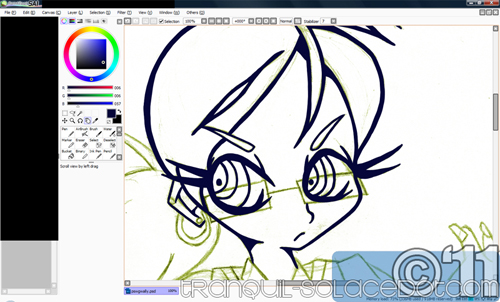 A little something I started inking in December of last year. Nothing more welcoming on a deviantArt page, like a glaring charicature!
I definitely intend to update this blog more frequently throughout this year. Wish me luck…I'll need it! In the mean time, you can see my sketches and doodles on my tumblr and finished and more polished looking work on deviantArt, as I put the finishing touches on the ol' homepage.