About the site
The origin of the name "Tranquil Solace", there's not much to it, I just happen to like the two words. Also I find a certain sense of tranquility and solace from drawing. And we all wish to find a place of solace, right? The webdomain was purchased on May 16th, 2008 and the site launched on November 25th, 2008 and has had visits since then. It continues to be hosted on
Bluehost
. The site was designed from scratch using Adobe Photoshop CS4/5, Adobe Dreamweaver CS5, using CSS, HTML, javascript and Slimbox2. Screenshots of past layouts include:
Note Paper
,
Carbon Fiber
and the current version(ver 3.0) Elegant Gothic Damask.
---
About the Artist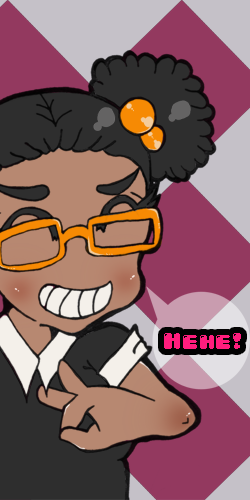 Name:
Leah Francis
Age:
29
Gender:
Female
Location:
T.O., Canada
Hobbies:
Gaming, music, blogging, design, reading
Colours:





Education:
Self-taught
Contact:
reafu[at]tranquil-solace[dot]com
---
FAQ
Q: How long have you been drawing in general? How long have you been drawing anime and cg art?
A:
In general, I've been drawing since 4(or as far back as I can remember). Anime art I've been drawing since 10(as the result of a 4th grade project on Japan)and digital art started around 2003, when I was given Photoshop 6.0(and then 7) and my first tablet.
Q: Did you go to art school?
A:
No, mostly self-taught with lots of practise.
Q: What tools do you use?
A:
Paper-Usually printer paper or a page from one of my sketchbooks
Pencils-Zebra M-402 mechanical pencil, Staedtler Mars-780 Leadholder
Ink-Pilot DR Drawing/Pigmentliners, Sakura Micron pens
Erasers-Staedtler Mars Plastic eraser holder, Sakura Electric eraser
CG input-Wacom Cintiq 22HD tablet
CG programs-Adobe Photoshop CS6, Paint Tool Sai,Autodesk Sketchbook Pro and Corel Painter X3
Q: Do you take commissions? Do you accept art trades or requests?
A:
Not at the moment, this may change in the future.
Q: Can I use your artwork for signatures/banners/icons/rp characters?
A:
For icons,signatures,banners and desktop wallpapers, yes, as long as credit is given. For rp characters no, it's more enjoyable to create and design the look of your own character.
Q: How did you learn to use Photoshop/Painter/Dreamweaver/build websites/etc?
A:
Tutorials and with practise, practise and more practise. You can find lots of information on the internet and there are tons of books dedicated to art programs and site building.
Q: Can you show me how to design a website/host a blog/ink digitally/etc?
A:
Seeing as I'm no expert myself at these things, my knowledge on this is limited. I can definitely point you in the right direction for tutorials though!
Q: Who hosts your site again?
A:
The site is hosted on
Bluehost
, a paid service.
Q: How did you create this site?
A:
The layout was designed in photoshop and the html/css coding written in Dreamweaver. The gallery script was provided by slimbox2 and javascript.
Q: Can I link your site? Do you take link exchanges?
A:
Yes! The site is link free. For link exchanges, please contact me via email.
For any other questions or comments, feel free to send me an email or ask a question on my
formspring
page.